(Click on the image)


Flying Duck Orchid
Paracaleana nigrita
(Mouse-over the image)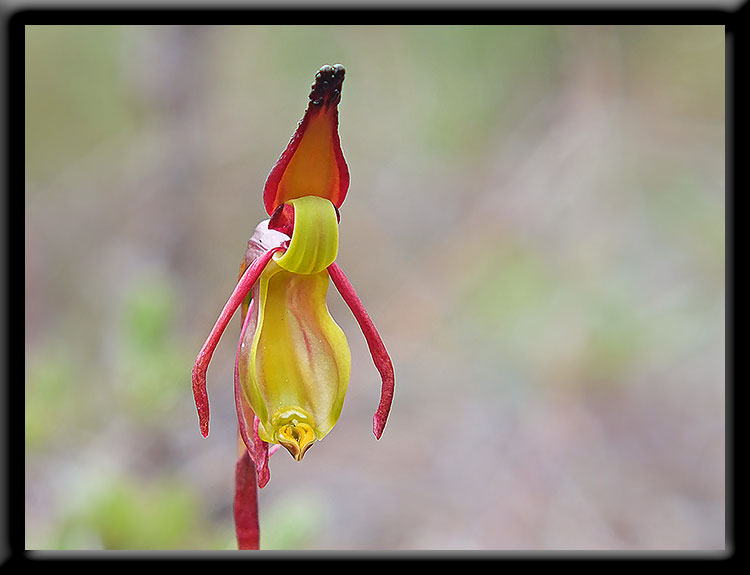 Flying Duck Orchid
Paracaleana nigrita

Reaching Spider Orchid
Caladenia arrecta
"The contrivances by which Orchids are fertilised, are as varied and almost as perfect as any of the most beautiful adaptations in the animal kingdom." - Charles Darwin

Jug Orchids
Pterostylis recurva

Cowslips
Caladenia flava

Scented Sun Orchid
Thelymitra macrophylla
Out come the orchids all dainty and cute,
marvels of nature, deceitful to boot.
Dragon and Fairy, Leopard and Tiger,
Butterfly, Bird and beautiful Spider.
Most of these blooms are rare and minute,
so finding this flora is fair dinkum beaut.

White Fairy
Caladenia marginata

Donkey Orchids
Diuris corymbosa

White Spider Orchid
Caladenia longicauda
The Labellum is controlled by a special set of genes, that means it can evolve and change its shape, size and colour while the rest of its petals remain the same. This highly functional 'lip' can attract, mimic, guide and determine the type of pollinator.

Custard Orchid
Thelymitra villosa

Potato Orchid
Gastrodia lacista

Yellow China Orchid
Cyanicula ixioides

White China Orchid
Cyanicula ixioides ssp. candida

Short-eared Snail Orchids
Pterostylis

Short-eared Snail Orchid
Pterostylis