Shark Bay - Western Australia
A World Heritage Area
"To contain superlative natural phenomena or areas
of exceptional natural beauty and aesthetic importance."
Click on the images to ENLARGE.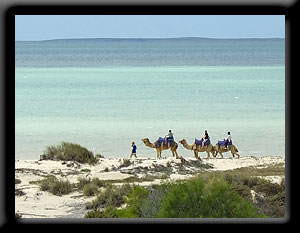 Shark Bay
Shark Bay is one of the few areas in the world meeting all 4 natural criteria for heritage listing.
The other 3 are:
The Great Barrier Reef
The Grand Canyon
Galapagos Islands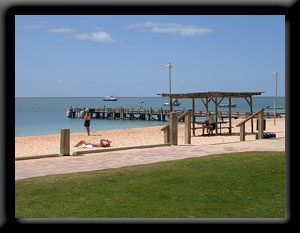 Monkey Mia
Covering 4000 km2, the seagrass meadows are the foundation of Shark Bay's marine ecosystem and one of the main reasons for World Heritage status.
Boasting 6 species of venomous sea snakes, 120 coral species, 320 fish species and one of the worlds largest populations of tiger sharks and dugongs.
Puck
The world famous Monkey Mia dolphins at Shark Bay have turned up for feeding and interaction with humans nearly every day for over 40 years.
Shell Beach
Ow ow ow!
This deceptive white sandy beach stretches as far as the eye can see.
These cockleshells have been drifting in for about 6000 years. The white shell deposits are up to 10 metres deep, along 120 kms of coastline.
Ancient
Stromatolites are rock-like structures built by cyanobacteria, one of the first lifeforms to appear on Earth.
Cyanobacteria have been releasing oxygen into the atmosphere for 3.5 billion years allowing air-breathing lifeforms to evolve.
These survived predators due to the high salt content of Hamelin Pool.
Spawned from a single seed, the 4500 years old seagrass meadow at Shark Bay is the largest known plant on earth. It covers 200 square kilometres.
Places in W.A.