Wildflowers of Western Australia
Red and Green Kangaroo Paw
Click on the images to ENLARGE.
The most attractive and well known of the Kangaroo Paws and an Australian icon.
It is one of eleven species of the genus Anigozanthos which is only found in the south-west of Western Australia.
The generic name is derived from the Greek anisos, meaning unequal or oblique, and anthos, meaning flower.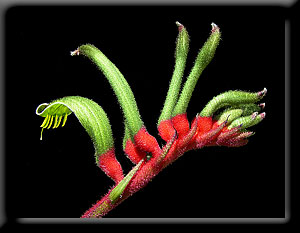 Honeyeaters and Wattlebirds, pollinators of the plant, are often seen perched on the sturdy metre high stems drinking the plant's nectar from the green hermaphrodite flowers.
The large sticky pollen is deposited on the birds head.
Kangaroo paws are also pollinated by the tiny nectar-feeding honey possums.
Birds and bees.
Kangaroo paws have evolved to avoid bees.
Generally, bird pollinated flowers are red (bees can't see red) and produce abundant dilute nectar (bees need strong nectar).
Kangaroo paws are unscented - flower pollinating birds have a poor sense of smell. Flowers with a fragrance are usually insect-pollinated.
Anigozanthos
The ten or more hairy flowers on a plant open one at a time and can be seen unfolding from August to October. (winter/spring)
Thumbs Up
The specific name manglesii honours Capt. Robert Mangles, horticultural enthusiast, who propigated the plant from seed in his English garden, 1839.
This perennial plant cultivates well in sandy soil but should be treated as an annual for the ultimate display in your garden to attract nectar eating birds.
The golden rule for growing kangaroo paws is full sun and good drainage. The floral stems make excellent cut flowers and are grown commercially around the world.
Floral Emblem
Proclaimed the floral emblem of Western Australia in 1960.
Classed as protected flora and is seen on uniforms and vehicles of the Department of Fisheries and Wildlife.
Stamps
1962 - 5 pence
1968 - 6 cents
1981 - 24 cents
1984 - 27 cents
Coins
1997 - $100 and $150